Raw or Jpeg Processing Has Taken Me On A Long And Tiring Journey – But In The End There Can Be Just One – Picktorial for my
raw

files on my Mac Computers

Powerful photo editing software is a must-have for the modern-day image maker. Most photographers are familiar with the biggest names out there – all the got you versions of Lightroom, complex but quite good Capture One, the way over cooked and sloppy Luminar, and (until a couple of years ago) Apple's own exceptional Aperture are popular choices. However, there are way too many users who are totally unaware of editing options outside of the big names. And as many have learned in the past 8 years or so big names do not always offer the best product or the best prices (referring to camera manufacturers).  Today, we're going to delve into one of the most powerful, progressive image processing alternatives out there – Picktorial 3.0.

While in line with competitive products, this Israel-based startup is committed to providing professional processing tools photographers need to get ahead. Picktorial strives to include many of the same features highlighted by more established programs but in doing so have provided a simplistic but comprehensive approach by providing all the tools in one easy simplified space to work in and at the same time enhancing those things that are most important to get both professional and non professional quality minded photographers.

Over the past couple of years I have worked with the creators of this program and several things have stood out.  One is their dedication to making the best product available and that the product must be able to perform at the highest level at all times. The other is their desire to provide a product at a fair price that is highly competitive to other companies offering the professional features that they offer.  And at a list price (check their site for offers) of $49.95.

They are truly bridging the gap between over priced and over marketed photo editors and are providing cutting edge technologies to provide photography enthusiasts and professionals with the tools to take their work to the next level while making it possible with a minimal learning curve to give their fortunate users way beyond the next level.

For those who use Apple Photo on their desktops and portables you can use Picktorial as extension. For all photographers with an existing photo library looking to utilize more advanced edits this is outstanding compatibility.

And I understand that those who used and loved the now defunct Apple Aperture that Picktorial allows native Aperture browsing, eliminating the need for any sort of complex and time-consuming conversions.  Life made simple.

But there are many Mac users who never have used or want to use Apple Photo. Picktorial is most certainly a STAND ALONE PROGRAM which can utilize any type of storage you use from clouds to drives.
Support for over 500 different Camera Models
The fact that these young folks are a startup company should in no way make you think that they do not or will not support you.  The small team behind Picktorial  supports over 500 different types of cameras raw formats and is more than capable to process RAW files of all shapes and sizes, and effortlessly converts images to standard file formats like Jpeg and Tiff Files. More importantly, Picktorial's ability to navigate RAW imagery makes non-destructive editing a possibility in areas where other programs simply do not hold up.  As a Fuji X user, having tried to find programs that are outstanding in processing my raw files has been a trying journey, but the folks at Picktorial heard me and delivered not only the proper algorithms but the most incredible Fuji film simulations offered only in the Fuji cameras.  And it all takes place in the raw processing format.
In many ways, the UI behind Picktorial is reminiscent to what you might see using Lightroom Classic or Luminar. However, there is one major aspect that sets it apart. Users will quickly pick up on the fact that Picktorial a utilizes single space workflow.
This means that moving between modules and jumping in and out of editing workspace's is no longer a hinderance.  Everything a person needs to process images is located in one place, with live image preview always showing and refreshing instantly. While this may seem like a minor detail, it makes for a more efficient editing experience overall.
Many of the tools that are in Picktorial are found in other, more expensive programs but the refinement and increased offerings in this program go beyond the norm.
Users will be happy to discover the plethora of powerful tools available on Picktorial. With curves, sliders, gradients, and more, it's possible to really fine tune photographs. 
However, Picktorial's editing tools and their capabilities climb to much greater heights basic adjustment sliders. The program screams when it comes to making local adjustments. These local adjustments cover the whole plethia of features this and other programs offer. Perhaps you have  played with a gradient or patching tool in the past. However, Picktorial goes above and beyond to take these tools to new heights.  Liniear gradients, Radial gradiens, Burshes, Healing brushes, Erase correction brushes.  I mean Wow.
Almost most programs offer basic color corrections – but, Picktorial also includes  split toning options as well as specific hue, saturation, and luminosity adjustments. Furthermore, precise and easy-to-apply color masks make it possible to totally change the look and feel of a photograph.
One thing that's not often seen in cataloging programs is the ability to mask and make select edits – in this regard, Picktorial breaks the mold. Though the program lacks the layers one might find in a program such as Adobe Photoshop, the advanced brush tools are on par and often better than similar graphic rendering software.

Another major advanced feature is a specific skin smoothing brush to get the desired effect. Using state of the art frequency separation techniques, it's possible for photographers to closely control the amount of detail being preserved while retouching. When compared to the Lightroom-equivalent Spot Removal tool, Picktorial's Patch tools blow competition out of the water.
To further aid the retouching process, the software comes equipped with an edge-aware brush that makes selecting and removing elements a snap.
Extremely well designed presets for giving you great head starts in processing images
There are beautiful presets found in a sidebar menu selection with dozens of options that can  generate a previews thumbnail illustrating how each profile will effect the image.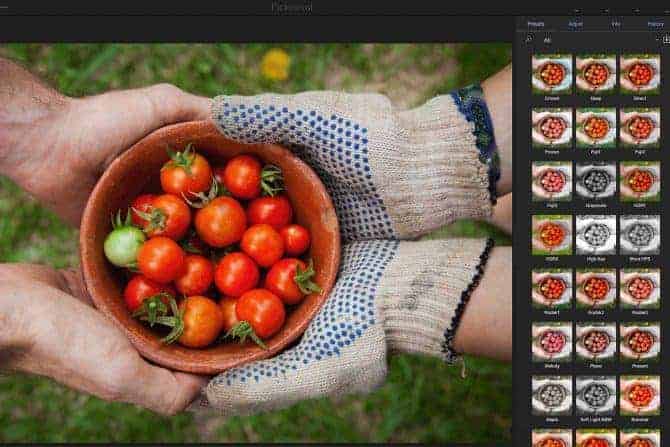 Picktorial continually updates and those who own the program for be on the lookout for new presets. The X-Pack was released to cater specifically to the Fujifilm x-Trans sensor. Profiles in this series were designed to simulate the rich, grainy look of film photos. Available for just $15, practically anyone looking to bring character and liveliness to their shots can do so with the click of a button.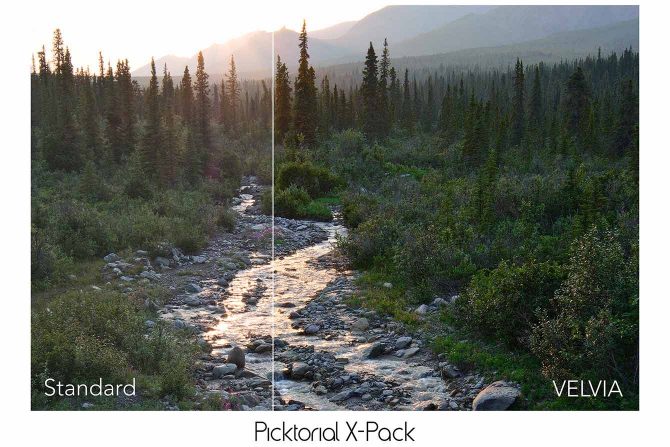 It's always tempting to stick to the familiar. However, Picktorial is worth going out of a limb for. It packs just as powerful a punch as its competitors, and in some areas, it manages to beat out industry standards. As if the high performance wasn't enough to tip the scales, Picktorial also happen to be one of the most affordable options available.